Health Alliance Info/Frequently Asked Questions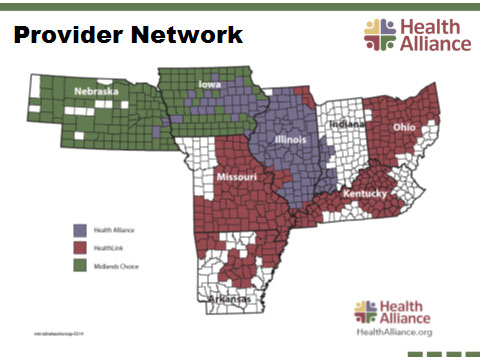 Local Hospitals

Sarah Bush Lincoln Health Center

Carle Foundation

Presence Covenant – Champaign

Chicago

University of Chicago Hospital and Health Sciences System

Northwestern Memorial Hospital

Methodist Hospital of Chicago

St. Louis

Barnes-Jewish

St. Louis University

• Missouri Baptist Medical Center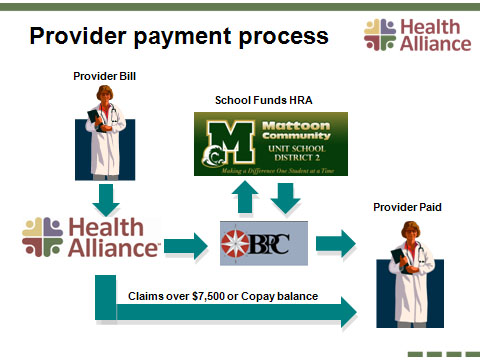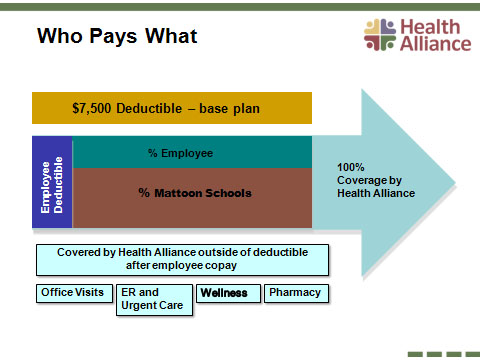 Our New Health Insurance FAQ's
Is it true that I have a $7,500 deductible?
Yes, everyone does. It is called a Section 105 (HRA) Health Plan – the School District purchased a high deductible plan, taking a financial risk on our major health, in return for significantly less premiums for all of us. The School District covers 80% of the portion of the $7,500 deductible beyond your individual plan choice and the employee covers 20% - your benefits do not change from the deductible plan you chose to have - $0 or $250 or $500 deductible. For example: You have individually chosen the $500 deductible plan. You will be responsible for the first $500 of covered medical expenses. The School District will pay 80% ($5,600.00) and you 20% ($1,400.00) of the remaining $7,000.00 to meet the total $7,500.00 deductible. This is a total out of pocket cost to you of $1,900.00 per deductible year. With our previous carrier, your out of pocket cost would have been $2,500.00 for the same plan. *Also new with this HRA Plan, after you pay the initial $500 deductible, the copays you make from that point on will apply towards that remaining $1,400.00 maximum out of pocket for you.
How is my doctor going to know what deductible I have?
They do not need to know your deductible. Nothing should change when you go to a doctor's office or hospital. Their procedure should remain the same in that all they should do at the time of an appointment is collect your copay amount as always. Then, just like with our previous insurance carriers, the doctor's office will bill Health Alliance for services rendered. When that bill reaches Health Alliance, they see that we have a HRA plan and electronically forward the bill to BPC (Benefit Planning Consultants, Inc. ) – the company that handles Health Alliance's payments for Section 105 (HRA) Insurance Plans like ours, and payments are made to the doctor or hospital according to your individual deductible plan.
When I call Health Alliance, they tell me I am wrong about my $500 deductible and insist my correct deductible is $7,500 and this is frustrating to me – what do I do?
Always remember... we will ALWAYS need to contact BPC for any and all questions regarding our deductible – how much we have paid toward our deductible – has my doctor bill been paid yet? – etc. DO NOT CALL HEALTH ALLIANCE with these questions – Why? Because when a Customer Service Representative at Health Alliance talks to you, all they see on their computer screen is that our School District has a $7,500 deductible plan - which we do - however; because it is a HRA plan and BPC manages all HRA plans for Health Alliance, when the Customer Service Representatives at BPC look at their computer screen they see the individual deductible plan you have chosen and can talk to you about any claim questions you may have regarding your $0 or $250 or $500 deductible.
So I should never call Health Alliance?
You should always call Health Alliance to verify that a certain procedure, test, lab, etc. is covered. And you or your doctor should always call Health Alliance to request pre-authorization on any procedure, test, lab, etc. Just do not call Health Alliance with claim, bill payment or deductible questions. Call BPC for those types of questions and/or concerns you may have.
I have gone to my Chiropractor for years and just paid my office copay, so why can I no longer do this?
We do have a Chiropractic Rider on our Health Insurance Plan, but because Health Alliance does not have a pool of in-network Chiropractors it is set up differently than the Chiropractic Rider we had in the past. The way the current Rider works is that Health Alliance will pay 50% of each visit to a Chiropractor, up to a maximum dollar amount of $1,000.00 annually, providing the Chiropractor is willing to bill Health Alliance for their services. The School District sent letters to all area Chiropractic Offices explaining the change in our coverage with Health Alliance and we hope they will work with it. Whether or not you can continue to see your Chiropractor of choice and have it be covered 50% by insurance depends totally on whether or not your doctor will agree to bill Health Alliance for you.
I need surgery that requires a pre-op MRI but Health Alliance will not pre-authorize it for fourteen days – fourteen days that my doctor does not want to wait – why?
We have learned that this is a universal time allotment for pre-authorizations with most, if not all, insurance companies. We have just never had a carrier, prior to Health Alliance, use this much time to complete certifications for any procedures. We are in the process of talks with Health Alliance and First Mid Insurance Group to see what can be done to minimize the length of time between the doctor requesting and the insurance company authorizing all non-elective procedures.
Can I continue to see my specialist in St. Louis?
Please check out the Provider In-Network Map and Major Hospital graphics above. They give you a visual perspective on where you can go and stay in-network with Health Alliance. This new insurance does not include the same "coast-to-coast" in-network area as the prior carrier did, but the Central Illinois in-network pool is larger now than before and there are highly rated major hospitals that are covered in-network. As you can see from the map, some in-network areas are covered through Health Alliance's affiliation with HealthLink and Midlands Choice Companies and will be treated the same as the Health Alliance in-network areas.
What if I am still not certain what to do?
This process of changing to a new type of insurance plan with a new insurance company can be very confusing. If you need to contact BPC with personal questions regarding your plan deductible or claim issues, they can be reached at 1-877-272-8880 or 531-9000. Please know that your doctor's office should not contact BPC as HIPPA Laws prohibit them from giving your doctor any information about you or your plan choice. If you should receive a bill from a doctor or hospital, or an Explanation of Benefits from Health Alliance, that you do not understand, please call your School District's Insurance Office, 238-8884, and talk with us before you pay anything. There are some things, again due to HIPPA Laws, that we cannot ask on your behalf and you will need to talk to the insurance company directly, but we will do our best to help. All of this information you have received today is now on our School Webpage and we will continue to keep insurance information updated on that Webpage. Please continue to ask your questions and express your concerns – otherwise we won't know you have an issue. We hope to continue to work together navigating the implementation of this new plan.